It's a new/old post. Have you ever just liked reading/seeing something you've done or said and laughing or smileing when you remember? Well, I was diggin out the randomness of the blog and came across this one from a bit of a time back and laughed. I remember this day in great detail and if I have to be honest, everytime I pass the store I think of that quilt!
Tuesday, July 12, 2011
The other day I took the littles with me on a shopping adventure. Now, I say adventure because with two children 4 and under the whole "hands in your pockets" rule goes over about as smoothly as screen doors on a sub. Anyway, we went here.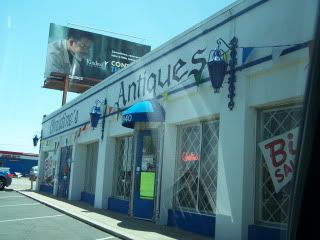 Because while driving down the road I saw this.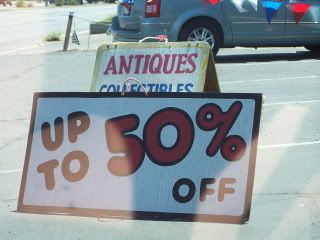 Be still my heart. Do my eyes dare play tricks on me? Well, I whipped the car in and took the kids out. We went inside. Mr. Little was in my arms and Miss Little was attached to my hip all because I told her if she touched/broke anything, we would get in trouble. This store is huge actually and held all types of stuff. I went straight to the linens. I love vintage quilts and table clothes. Not to mention pillow cases and the embrodiery some have on them. SO delicate and pretty. On top of a pile of quilts was this little ditty.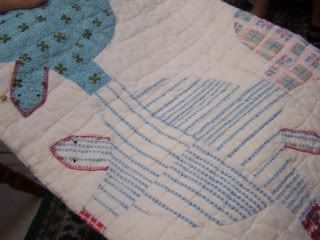 Look at those adorable turtles! My heart was pounding and I was getting excited. In my mmid I had bought this already and was putting it on Mr. Littles big boy bed. "Alright Aleigh. Calm down. I will buy it if it's $50 less".
Not. Even. Closs. I asked the owner of the shop if the tag reflected the sale price and he evr so sweetly informed me that it did not. OK, so half of $290 is what? Oh yea, $145. Still over my $50 mental amount. CRUMBS! He then told me all the linens he had were for sale and that I could buy the whole lot for $2500. Umm, that was a killer deal since the man had about 10 quilts alone. Now, I can't afford $145 what makes you think I can afford $2500? I did stop for a full 2 seconds and think about it though. No. I can't do that. Rick would kill me. I WOULD KILL ME! So I sulked away from the linens, broken hearted and beatdown. We decided to look around some more and found a doll section. Little Miss liked it a lot. Cool dolls and doll houses like this one.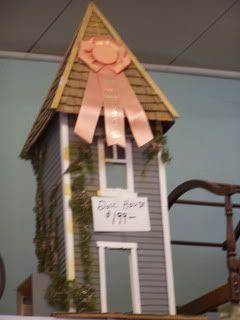 Someday I'd like to get one for her if she likes it when she's older that is. But how adorable is that roof and exterior color? It remindes me of a home you'd see in Avonlee don't ya think? The hometown of Anne Shirly. Oh come on! Still no idea? Anne of Green Gables. Anyway, Miss Little being all kinds of cute among the dolls.
I,personally,was reminded about all the scarey movies I watched as a teen. You know the ones, where the dolls come to life and kill you. YIKES. But most of them were adorable and sweet and looked like they had been best friends with happy little girls all over the place. Except this guy.
Mr. Willie Talk you freak me out. You scare me with your void eyes and creepy mouth. I don't like you. You will not be comming to my house thank you very much.
So at the end of the day we left empty handed. I still dream of the turtle quilt and if I could swing it, I'd snatch him up faster than you could say yee haw!
And on a side note, Little Miss can still wear that dress!
~Bugs & Fishe,
Aleigh